Introducing: Small Beer x Jamie Ferments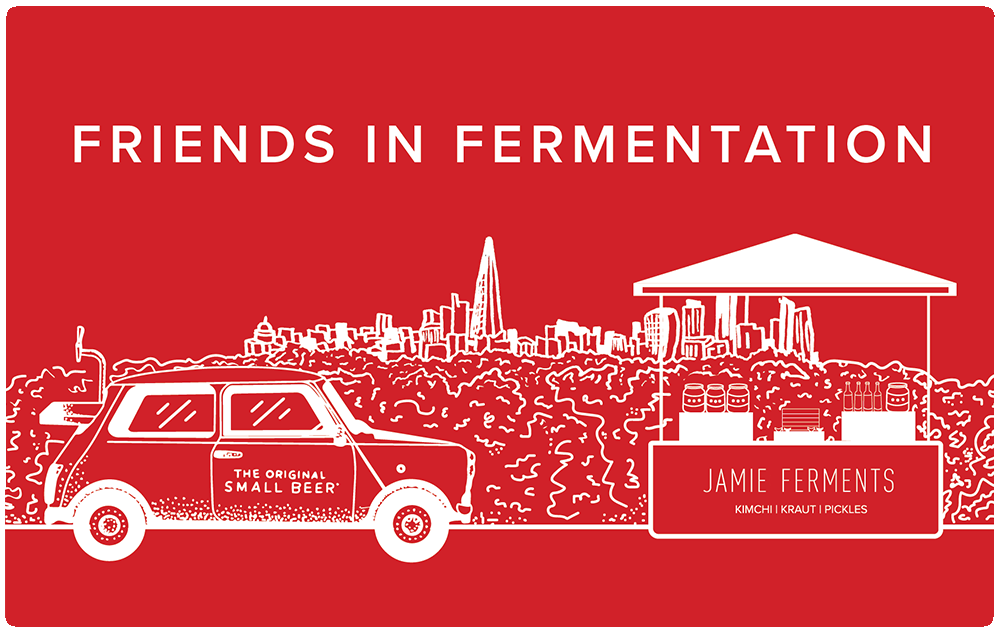 Jamie Ferments is the king of the London's fizzing fermentation scene. Most mornings, you'll find him whipping up a storm in the kitchen of Arlo & Moe, a coffee and brunch institution, with two cosy cafes in south east London.
The chef first made kimchi for himself after becoming fascinated by the link between fermented foods and wellbeing. But after receiving rave reviews from cafe regulars, his jars of pickles, kimchi and sauerkraut started sweeping the shops and delis of South London.
To celebrate the launch of the brand new Small Beer x Jamie Ferments bundle, the Small Beer team visited Jamie on a busy Friday morning at Arlo & Moe cafe in Hither Green to talk about the rise of naturally fermented foods and their many health benefits.
We captured our visit on camera and you can watch the video below:
The story of Small Beer and Jamie Ferments starts at the Horniman Market in South East London.
Every Sunday morning, our co-founder Felix parks up the beloved Small Beer mini - which we've named Lulu - in the gardens of the Horniman Museum to sell ice cold beers to South Londoners.

Most weekends, we're flanked by Jamie Ferments, purveyors of some of the finest naturally fermented foods and what Felix swears is the best kimchi in the world.

Over time, we've began to refer to our little corner of the Horniman Market as the 'Fermentation Station' and an idea started to bubble... and at long last, we are proud to present the Small Beer x Jamie Ferments bundle.
We've paired two of our most refreshing beer styles with Jamie's fiery vegan kimchi and crunchy pickles that you can put in burgers or sandwiches or eat straight out of the jar. We've also thrown in a Small Beer tote bag, so you can carry everything to your next BBQ.
The Small Beer x Jamie Ferments bundle is exclusively available to buy now from the Small Beer website for £37.50 and it includes the following:
4 x Small Beer Session Pale
4 x Small Beer Lager
1 x Dill Pickles 450g jar
1 x Vegan Kimchi 450g jar
1 x Small Beer tote bag
As beer, pickles and kimchi are all fermented foods, it makes perfect sense to us that they should be enjoyed together. As part of this collaboration, we also wanted to recognise the South London community that has supported Small Beer in our first six years of brewing.
Since the very start of our Small Beer journey, we have sought to use our business as a force for good. Every year, we donate 1% of our revenue to the Horniman Museum to help them make a positive environmental impact and reduce water usage in their aquarium.
This money also helps the amazing team working in the museum's aquarium to promote Project Coral, which aims to regenerate reefs and support sustainable livelihoods threatened by climate change.