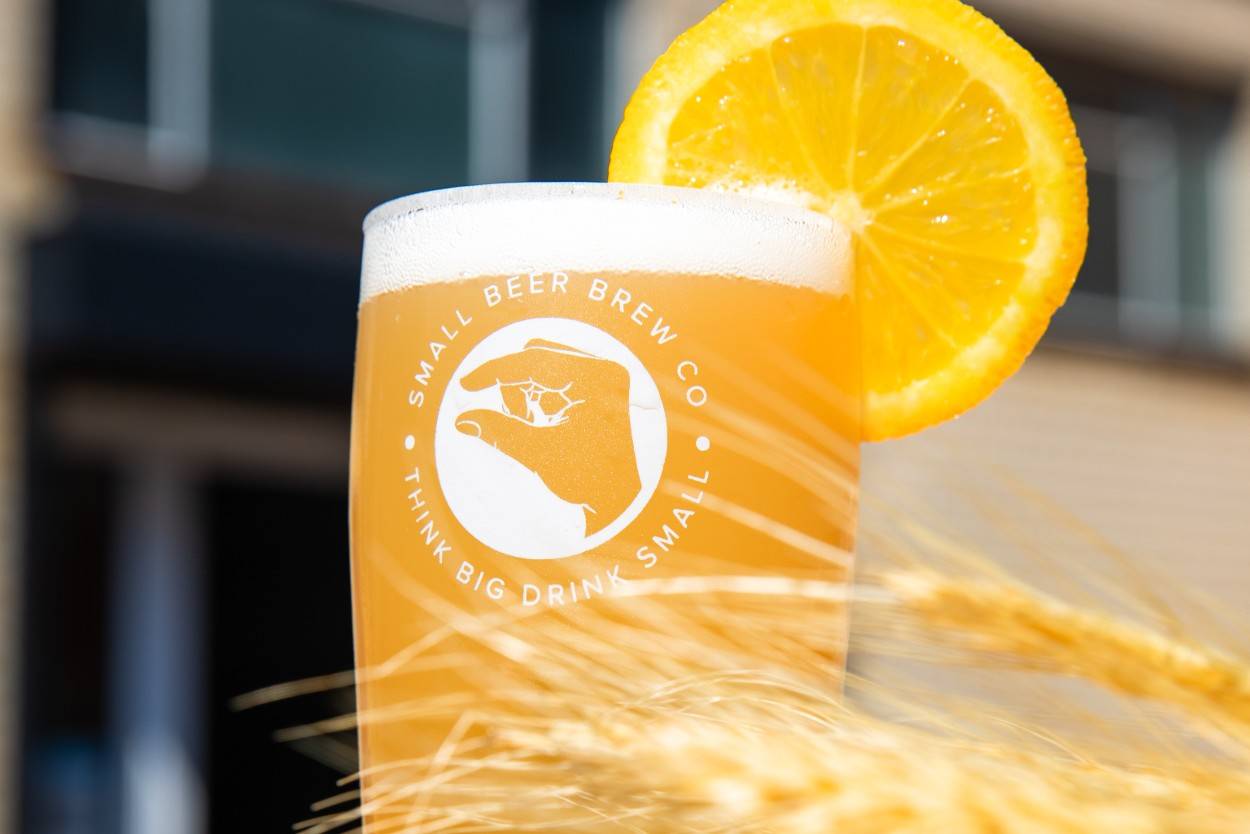 Witbier is known by craft beer lovers as the world's most refreshing beer style. It's a historic beer with a distinct taste that gets its name from the Dutch translation for "white beer," which references its pale appearance.
 
You can tell a witbier by a few characteristics:
Hazy appearance and pale colour
Herbal spicy notes, with hints of coriander and orange peel
Smooth and somewhat creamy mouthfeel
Supremely refreshing taste
The delicate balance of spicy coriander and orange peel gives witbier a flavour profile that is more complex than most lagers, but due to its lively fizz and gentle sweetness, a good witbier should always be highly drinkable, with a clean and crisp finish.
Witbier can be considered as a type of wheat beer, as it brewed with a substantial amount of wheat, alongside more common brewing grains like malted barley. A Belgian-style white beer is a very different drink to German wheat beer - known as hefeweizen - which tends to have notes of banana and clove flavour.
Like many great European beer styles, witbier was first brewed by monks during the Middle Ages, but its popularity declined over time, as lager became the dominant beer style across Europe.
This all changed in the 1960s in Belgium, when the art of brewing witbier was rediscovered in the village of Hoegaarden, which has been honoured by arguably the most famous witbier ever brewed.
Nowadays, witbier is a staple in the modern craft beer scene. Although lesser known than lager or pale ale, it is drunk worldwide and is especially popular in Belgium and on the east coast of the USA, thanks to its distinct taste, historical significance and thirst-quenching powers.
WHAT DOES WITBIER TASTE LIKE?
The pale and hazy appearance of a witbier looks a little like cloudy lemonade. It owes its cloudy appearance to the high proportion of wheat used in the brewing process, which typically makes up at least half of the grain bill. The use of wheat also creates a light, smooth mouthfeel and a distinctive creaminess that sets it apart from lagers.
Witbier tends to have very little bitterness, compared to other beer styles, and there is a subtle spiciness and fruity tang, with some peppery notes on the palate.
Although witbier is top-fermented like lagers, as opposed to a bottom-fermented ales, the grains are mashed at much higher temperature to encourage the release of proteins, which contribute to the beer's haziness. After fermentation, the nature haze is retained, as the beer is left typically unfiltered.
THE SMALL BEER TAKE ON A WITBIER
In June 2023, we brewed a limited edition Small Beer Witbier, crafted at 2.5% ABV, which marks the first edition in our Small Batch series.
True to style, our Small Beer Witbier is brewed with wheat, coriander seeds and bitter orange peel. The coriander provides a subtle citrus and spicey notes, while the orange adds a refreshing zest, balancing out the sweetness of the wheat.
As with all the Small Beer that we brew, we seek out the best ingredients that suit the chosen style. For our Witbier, we've used the very finest Hertfordshire wheat as the backbone of the beer. We chose tangy, sun-kissed orange peels from Seville for a dreamy citrus aroma and we paired the orange with locally-sourced coriander seeds grown in Sussex.
We also used three hop varieties that each add a unique character to our Witbier. Admiral hops, which are native to Britain, are added first to create a refreshing bitterness. Later, we add two more hop varieties to the whirlpool: Tettnang, a noble hop from Germany, and Lubelski from Poland, which is similar to the noble Saaz hops we use in our pilsner style Small Beer Lager. This fragrant hop combination creates a herbal spicy flavour profile and really heightens the exotic aroma of our Witbier.
We think our Small Beer Witbier is a perfect beer to sip on when you're enjoying a warm summer evening or as a compliment to delicate dishes, whether it's a salad to share or some grilled vegetables or seafood from the BBQ.
For an exquisitely refreshing experience, we recommend pouring our Witbier into a slender glass and placing a half-moon of freshly sliced orange on the rim.