There's good reason why Small Beer was chosen as London's first B Corp™ Certified brewery. Here, we reveal what goes into making our session beer sustainable and how other breweries can follow.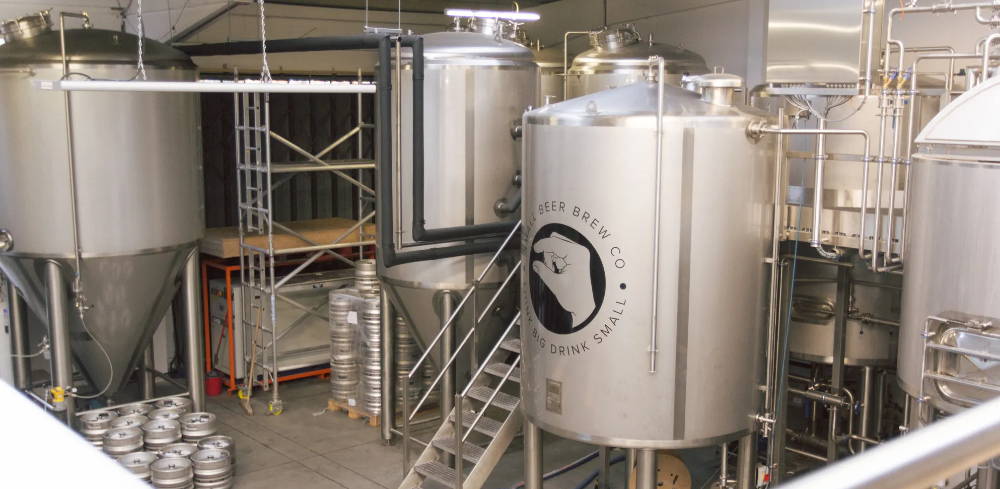 Thinking big runs through everything we do at Small Beer. It's why we're the world's first brewery to operate a dry floor policy, drastically reducing the amount of water needed in the brewing process that has seen us save more than 6.5 million litres of water to date!
Along with saving water, we have built our brewery to run on entirely renewable energy sources, and use entirely recycled or recyclable packaging. In 2019, our sustainable business practices led us to become London's first B Corp™ Certified brewery.

WHAT IS B CORP™?
There are over 2,500 Certified B Corporations® from more than 130 industries and 60 countries with 1 unifying goal: to redefine success in business. B Corps™ are leaders of a global movement of people using business as a force for good™.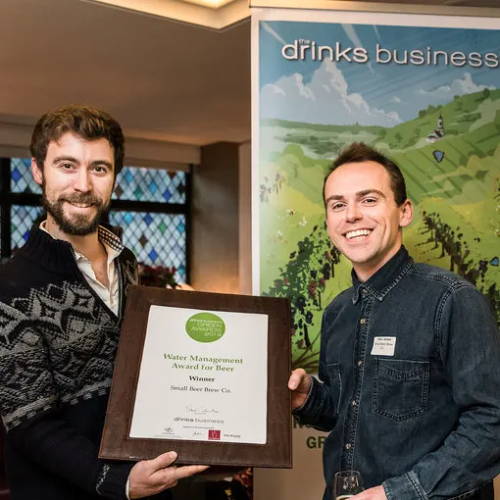 OUR AIM AS A SUSTAINABLE BREWERY? NEVER TO WASTE A DROP.
From day one, we've drastically cut the water needed to brew our beer. Where industry standards typically required 8-10 pints of water for every pint of beer brewed, we designed a brewing kit that required just 1 ½ pints of water to brew one pint of Small Beer. Since embarking on our first commercial brew in 2017, we've saved more than 6.5 million litres of water, inspiring positive change across the industry.

This commitment to water reduction saw us accept the Water Management Award for Beer from The Drinks Business Green Awards in 2019. We were recognised again in 2022, winning The Sustainable Use of Water Award at the Footprint Drinks Sustainability Awards.
"Choose one thing that reduces your impact on the environment and stick to it"
SORAYA ABDEL-HADI, EXPERT IN BUSINESS SUSTAINABILITY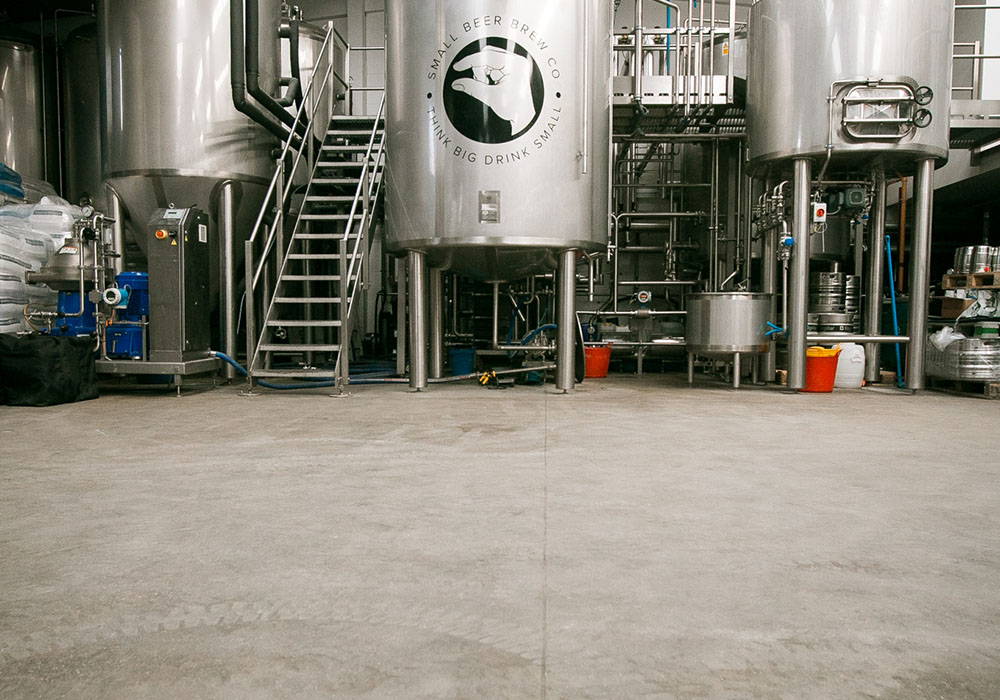 Brewing beer is water intensive. In a traditional brewing environment, brewers drain waste products to the brewery floor and use hoses to wash down to drain.⁠ We operate a 'Dry Floor' policy, the only one that we have come across in the brewing industry. It saves hundreds of litres of water every day and makes for a drier, safer, more hygienic environment. ⁠
We clean our brewery with recovered heat and water. All of our electricity comes from the wind, sun and sea, with all our gas coming from anaerobic digestion from food waste. We're also encouraging our suppliers to push boundaries on their green provisions. Our labels, boxes and business cards are all 100% recycled. We won't add anything unnecessary to our beer or our packaging.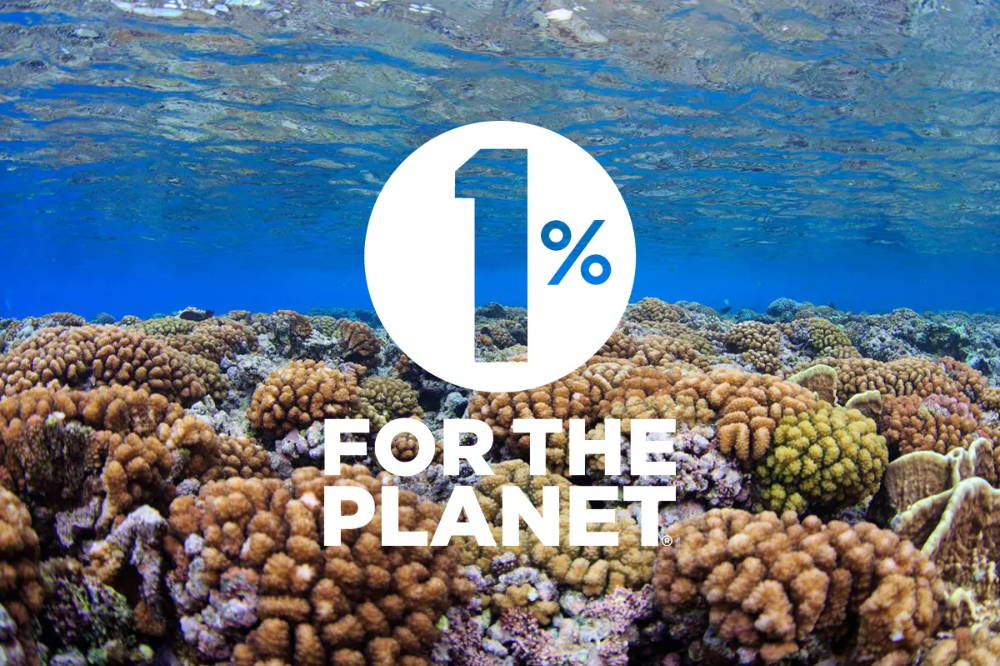 Small Beer is proud to be part of 1% For The Planet and we've chosen the Horniman Museum and Gardens in South London as our partner. This means that every year, we donate 1% of our revenue to help the museum make a positive environmental impact and reduce water usage in their aquarium.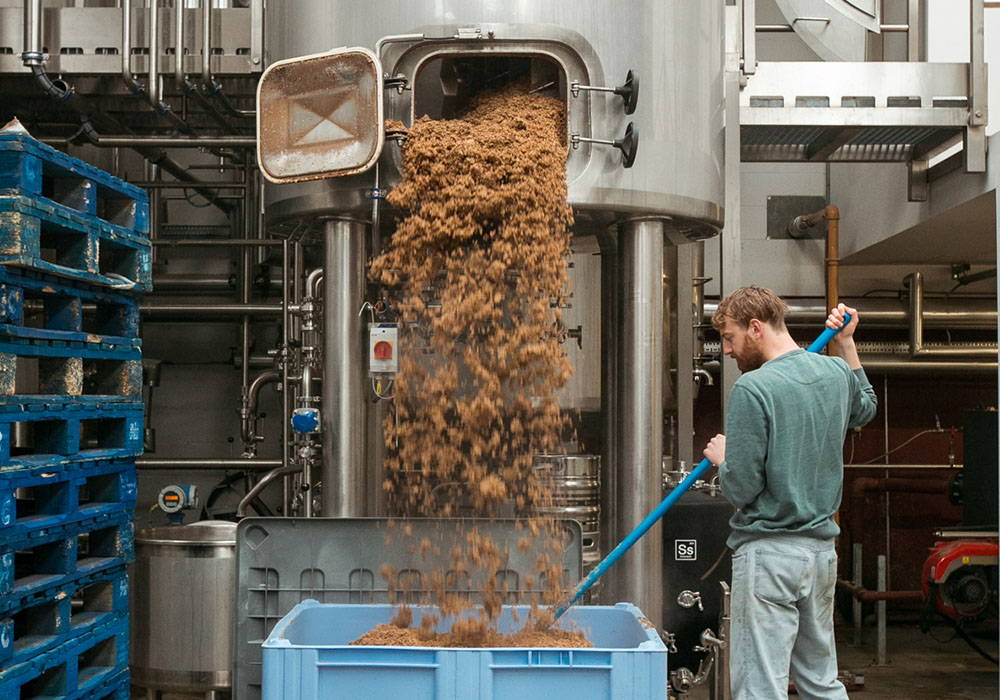 We carefully collect the spent grain and deliver it to a farm partner where it's used as feed for Dexter cows. The farmer tells us that the high water content of the grain means that his cows are more hydrated and end up drinking less water from their troughs, further reducing water usage at the heart of another business.⁠
We donate our used grain sacks (which can't be filled again by our malt supplier) to BOST, a social and environmental charity, based locally, who use them for storing and moving gardening materials across their neighbourhood programmes.⁠
You can also follow our sustainability journey on wherefrom, a platform which allows you to find, research and review the sustainability of companies, which is measured by a sustainability sentiment scale. You can see our sustainability scores below:
"We're not a 'sustainable beer'. We're a great tasting beer that brews with our world in mind. The way things should be."
 FELIX JAMES, CO-FOUNDER 
How much water is used in beer production?
Brewing a single pint of beer can typically require between 8-10 pints of water. The Small Beer brewery in Bermondsey operates a radical 'dry floor policy,' which requires far less water. For this reason, we have reduced our water usage down to around 1.5 pints of water for every pint of beer that we brew.
How much carbon is emitted by the beer industry?
A study conducted in 2016 that found that breweries generate 0.85% of the total carbon emissions in the UK. For a pint of draught beer, 36% of its overall environmental impact is generated by the actual ingredients that make up the beer, according to Mike Berners-Lee in the Guardian. But these numbers will be different for beers that are packaged into bottles or cans.
Are beer bottles or cans more sustainable?
From production to consumption, cans are more sustainable than bottles, as they weigh less, they hold more volume and they are typically easier to recycle. However, aluminium mining is a destructive practice, which is why we believe that glass bottles still have an environmental edge over cans for the time being.
What makes a brewery a B Corp company?
A B Corp brewery is one that has been verified by B Lab to meet high standards of social and environmental performance, transparency and accountability. In 2019, Small Beer became the first brewery in London to achieve B Corp certification. To retain our B Corp status, we must re-certify every three years.
Where is Small Beer brewed?
Small Beer is brewed entirely by our heroic brewing team in South Bermondsey, which helps to lower our carbon footprint further. Calculations from Mike Berners-Lee in the Guardian show that importing beer that has been brewed in another country, typically generates twice as much carbon dioxide and other greenhouses gases, as it is so heavy to transport.