Small Beer Hazy IPA Delivers Tropical Taste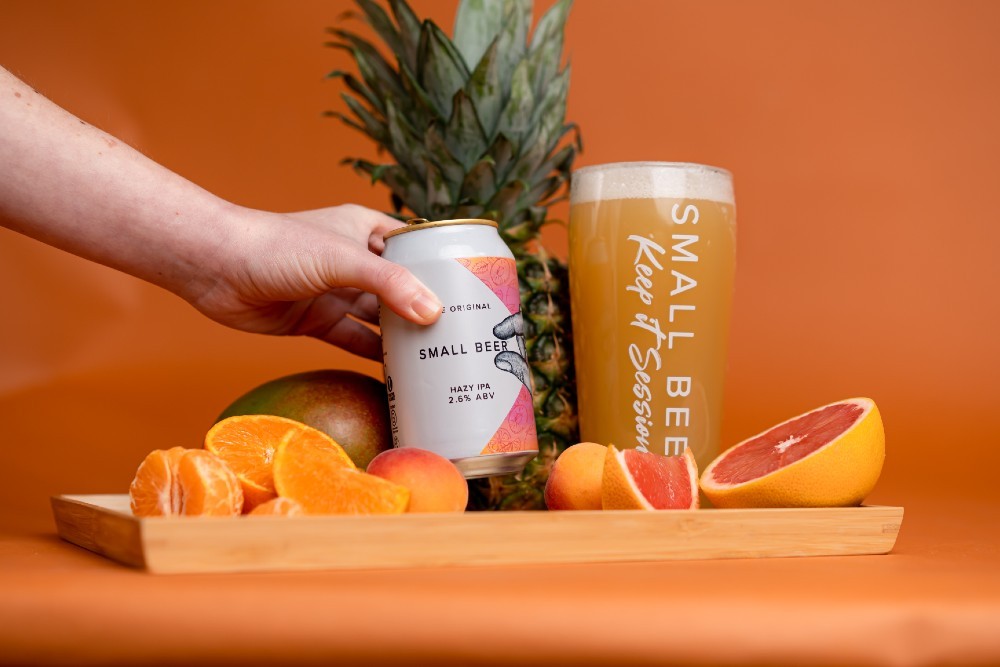 The brand new Hazy IPA from Small Beer is our first new beer release in two years.
Small Beer Hazy IPA is a juicy session ale, crafted at 2.6% ABV, that packs in ripe apricot and tropical mango flavours.
Exclusively available from the Small Beer website, we have only produced a limited amount of cans, so that you can enjoy this hoppy beer as fresh as possible.
You can also drink Hazy IPA on draught if you stop by our taproom in Bermondsey, as well as a number of pubs and bars, starting with The Porterhouse in Covent Garden from 8 February. Keep an eye on social media channels and our stockists page to see who else is pouring Hazy IPA.
For the last few months, our brew team have been beavering away in South Bermondsey to find the perfect combination of New World hops and British malts that deliver a tropical taste and full-bodied flavour.
Unlike anything we've brewed before, the style of this beer has its roots in New England, a beautifully rugged and historic region on the East Coast of the USA that is known for its hoppy, hazy and delicously moreish craft ales.
We achieved the beer's juicy character of our Hazy IPA by 'dry hopping' the beer with a trio of punchy New World hop varieties: Citra, Mosaic and El Dorado.
The malts remain an all-British affair, but we used a double dose of organic oats - alongside Maris Otter barley - which gives the beer its natural haze that makes the sunshine yellow hue all the more alluring.
Hazy IPA is our second IPA to date. Of course, our gluten free Organic IPA remains part of our core beer range, but this is a whole different proposition to our Hazy IPA, as it was crafted entirely from organic ingredients grown by British farmers and is more reminiscent of traditional English IPA.
Regardless of the style or whether we're brewing with British or American hops, Small Beer is always about packing in as much flavour and character as possible. This is why we truly believe that we make the best session beers in the world.