Why is Everyone Crazy for Hazy IPA?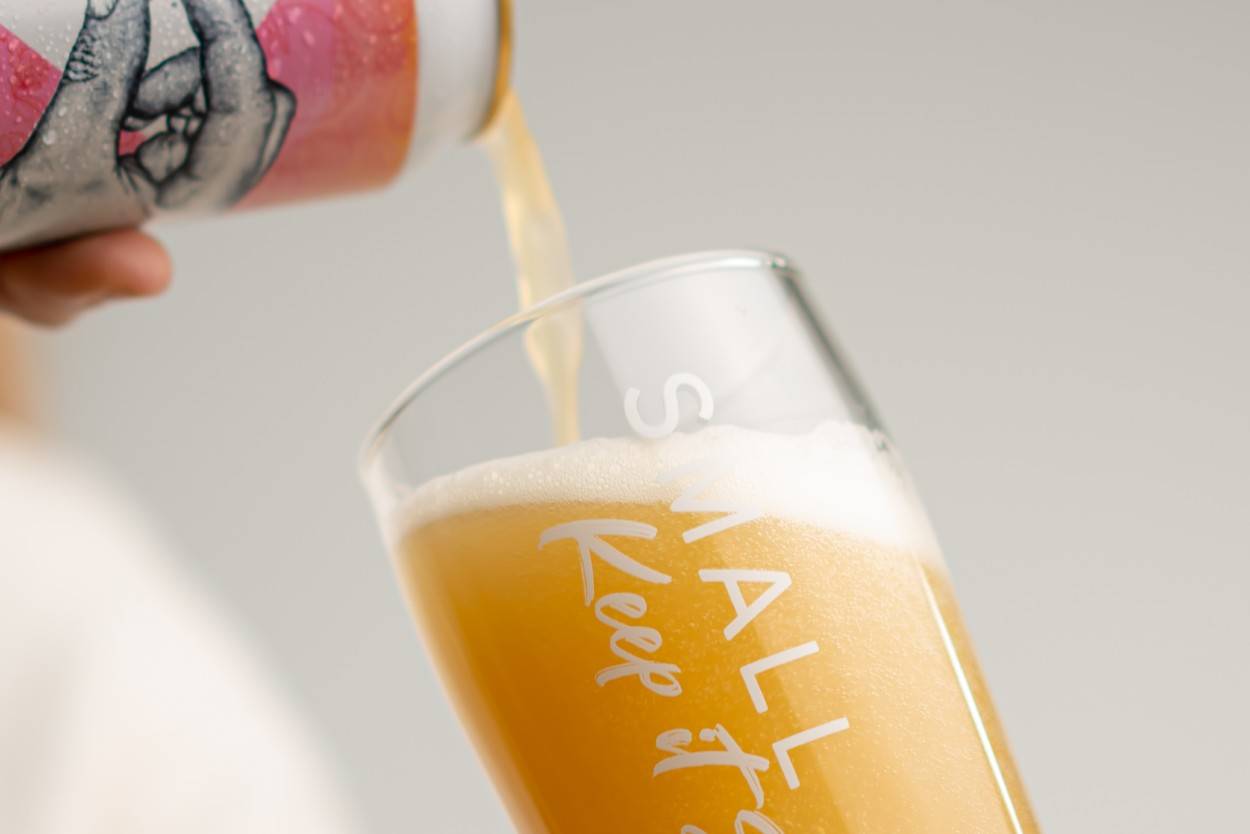 Have you ever sent back a beer for looking cloudy? If you were expecting the crystal clear clarity of a cask ale or a lager, a cloudy appearance may indicate that the beer is past its prime, but this is not always the case.
In brewpubs and bottle shops and across the country, a newer style of craft beer has made its way across the Atlantic... the Hazy IPA. Originating from New England, you can identify a Hazy IPA by its hazy or opaque appearance and its tropical aroma.
Hazy IPA is an offshoot of the modern American-style IPA and according to the Beer Judge Certification Program (BJCP), a Hazy IPA is "an American IPA with intense fruit flavors and aromas, a soft body, smooth mouthfeel, and often opaque with substantial haze."
These beers tend to be heavily hopped with New World varieties like Citra, Mosaic or Sabro, which are often added later in the brewing process at lower temperatures. The hops can be added during a stage known as 'whirlpooling,' or after fermentation has occurred, which is known as 'dry hopping.'
To understand how Hazy IPAs have developed, it's useful to understand more about IPAs and their role in the history of brewing.
IPA is an acronym for India Pale Ale, a term that refers to the heavily-hopped pale ales of the 1800s that were brewed in England, using native hops like Goldings and Fuggles, and shipped to India. In the decades since, global influences have evolved the IPA's character and increased its popularity. While our gluten free Organic IPA continues the tradition of using British ingredients to create a floral hop aroma and rich marmalade bitterness, many modern IPAs - and their hazier cousins - are instead reliant on American and New World hops to create intense fruit flavours and high bitterness.
Hazy beers are often brewed with grains that have a higher protein content, like oats and wheat. In a typical Hazy IPA recipe, it's not uncommon for more than half of the beer's total composition to be made up of oats and wheat.
It's primarily the higher protein levels that come from the grain which creates a natural haze when brewing beer.
Haze in beer can be developed furthered by adding hops at a time when fermentation is at its peak - known by brewers as high kräusen - to start a process of biotransformation, which provides even more haze and unlocks aromatic compounds from the hops.
WHAT'S THE DIFFERENCE BETWEEN A HAZY IPA AND A NEIPA?
New England IPA - often shortened to NEIPA - is a type of American-influenced IPA, which is believed to have originated in the New England region of the US in the 2010s. Somewhat confusingly, the BJCP's description of a New England IPA is exactly the same as its description of a Hazy IPA, but with the addition that brewing a NEIPA tends to put an "emphasis on late hopping, especially dry hopping, with hops with tropical fruit qualities lends the specific 'juicy' character for which this style is known."
In his latest book on tasting beer, British writer Mark Dredge agrees that there's not much of a distinction between the styles, but says that Hazy IPA tends to be lighter-bodied, whereas a NEIPA is "thicker in mouthfeel and texture, cloudier in appearance, and often more aromatic."
---
FREE SHIPPING ON SESSION BEERS
Small Beer is big in taste and refresingly lower in alcohol. You can enjoy free shipping when you sign up to our newsletter.
---
WHY ARE HAZY BEERS SO POPULAR?
There's perhaps something novel about breaking brewing conventions, but what makes Hazy IPAs and NEIPAs so popular is their low bitterness and fruity flavours: think of a sparkling tropical fruit juice crossed with the refreshing bitterness of an American pale ale.
The higher protein levels that come from the grain softens the mouthfeel to the point where a Hazy IPA can be described as silky. But what really sets it apart from more traditional IPAs is its 'juicy' character.
As lovers of great-tasting beer, we want all hops to have their chance to shine and we believe there is a beer for every occasion. We remain immensely proud of Small Beer IPA, not only for its delicious richness and drinkability, but because we passionately believe in the character and flavour of British hops.
We brewed our New England-inspired Hazy IPA for the occasions where we crave a more tropical taste at a session-strength. Whereas many American-influenced IPAs tip the ABV scales, Small Beer Hazy IPA is a quaffable craft beer that delivers full-bodied flavour, without any of the slowdown. It's also naturally low in calories - with only 96 calories per can - which means you can enjoy world-class beer while striking the perfect balance.