How to Use & Recycle a Mini Beer Keg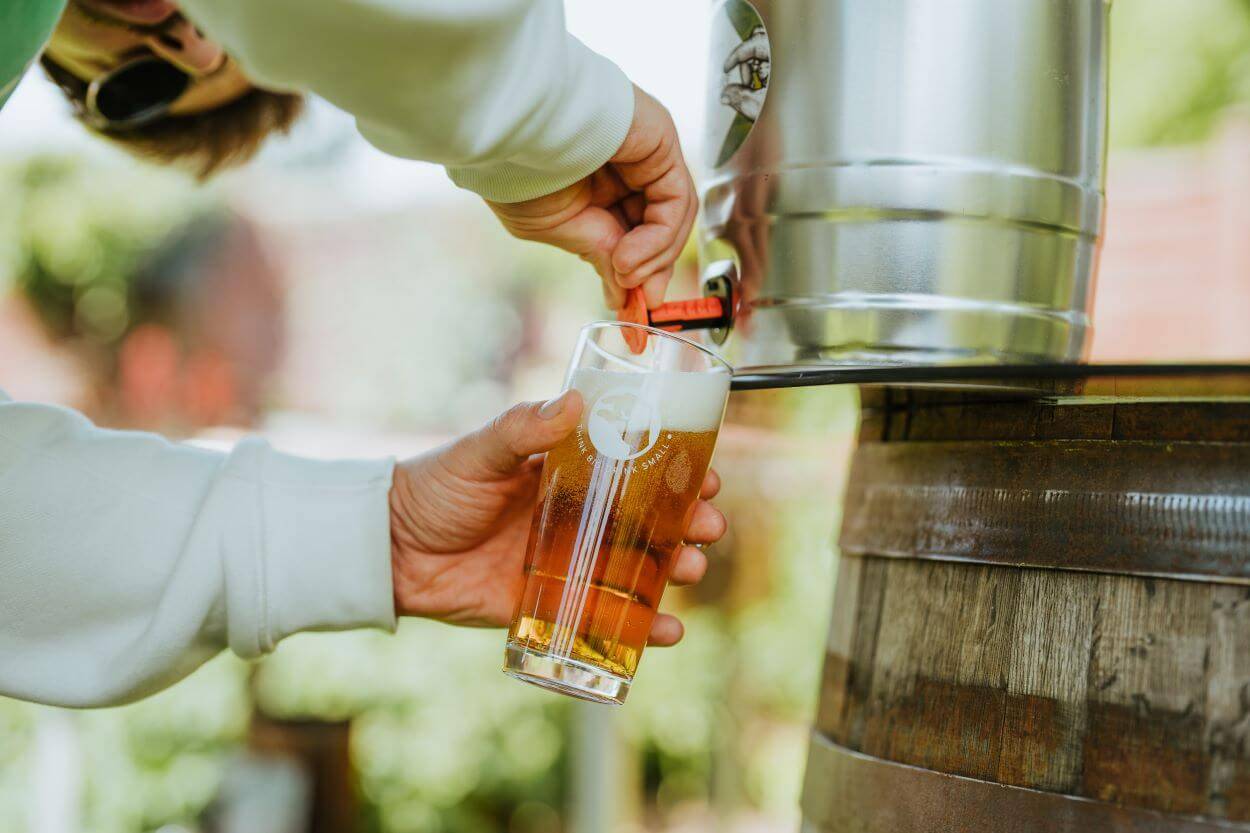 A mini beer keg - sometimes known as a party keg - is the perfect centrepiece to an enjoyable session with friends. Just grab a few mates and some glasses and you can enjoy delicious draught beer at home. You can also use the convenient carrying handle to take your keg wherever it needs to go, making it perfect for parties or for sunny afternoons in the park.
The best thing about our mini beer kegs is that they are filled fresh with our Small Beer, straight from the tank. Better yet, the signature session strength of our beer, which is always below 2.8%, means you can enjoy world class taste without any of the slowdown.
HOW TO USE A MINI BEER KEG
You don't need any special equipment to use a mini keg at home, but the method may vary a little depending on the type of keg that you have.
If you have recently bought a mini keg of Small Beer, there should be a small tab on top that you can lift up and turn to properly vent the keg. If you have a mini keg looks like this, follow the instructions below to get your perfect pour:
Make sure your mini keg is nicely chilled. We recommend making some space in your fridge and chilling the beer for at least two hours before serving.

Place the keg on a table top or a park bench, so there is plenty of space to position your glass underneath.

Lift up the tab on top of your keg and turn it anti-clockwise by 90 degrees.

Pull the pouring spout all the way out. Don't be afraid to put some muscle into it! You can't overdo it. If you don't pull it out completely, it may drip from the connection or leak when you pour.

Hold your beer glass underneath the pouring spout and tilt it towards the keg at a 45 degree angle.
Pull down the tab on the pouring spout and turn anti-clockwise to pour your beer.
Return the spout clockwise to stop the flow.
Sit back and enjoy fresh draught beer at home.
If your mini keg has a stopper lid on top that you can open and shut without needing to turn a tab, tilt the spout downwards to pour and raise it back up to stop the flow. Watch our video below for further instructions:
HOW MANY BEERS ARE IN A MINI KEG?
A mini beer keg has a capacity of five litres, which allows you to serve around nine pints of fresh draught beer. If you intend to drink it within a day or two, buying a mini keg is typically more cost-effective than buying multiple bottles or cans of beer.
Mini beer kegs are intended for home consumption and, as you would expect from the name, they are much smaller than the industrial kegs used in pubs and bars, which contain up to 50 litres of beer.
HOW LONG DOES A MINI KEG LAST?
The beer in a mini keg should be enjoyed within two to three days of opening it. If you still have some beer left in your keg at the end of your session, turn the tab on the top of the keg back to its starting position to stop it from going flat and gently return the keg back to the fridge.
As our kegs of Small Beer are filled directly from the tank in our brewery in Bermondsey, we recommend that you open and enjoy the beer in your mini keg within one month of receiving your delivery.
WHAT TO DO WITH AN EMPTY MINI KEG?
We're all about making beer sustainable, which is why our five litre kegs of Small Beer are fully approved for recycling across the UK. Please make sure your mini keg is completely empty before you recycle it. Once it's finished, all you have to do is put it into your dry mixed recycling, just as you would with a normal drinks can.
WHERE CAN YOU BUY A MINI BEER KEG TO DRINK AT HOME?
---
If the call for a spontaneous session arises and you require a speedier delivery, you can buy a keg of Small Beer from Deliveroo and other on-demand delivery platforms (although please note: this is limited to South London for the time being).
When you're enjoying your mini keg, don't forget to tag us in your posts! You can find us on every social media channel @originalsmallbeer.