The Best Beer For Your BBQ
Almost nothing in life is certain. Not least British weather. So, when a clear blue sky does emerge, there's nothing we relish more than the smell of smoking embers as we clasp a cold, crisp BBQ beer firmly in-hand. True Perfection.
We all know the drill. It's a tournament of horticultural games, where any outside space is a worthy pitch site, supermarket fridges reach post-apocalyptic scarcity and roads near parks take on a disorganised street party-like chaos, reminiscent of a primary school summer fête. There's honestly nothing like it.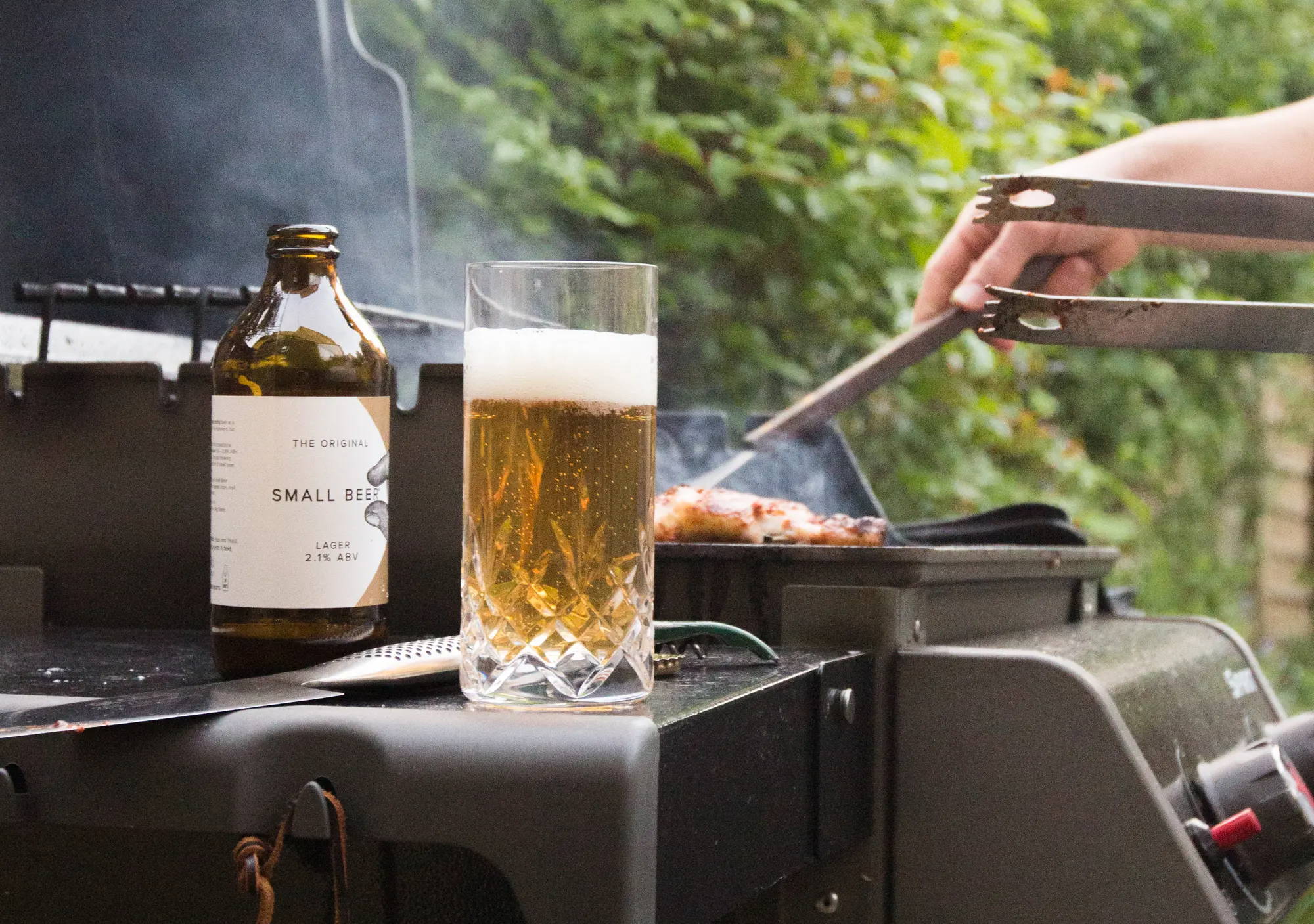 Now that we've painted quite the picture, we ask you this… What is the best beer for a BBQ?
In and among the sounds, smells and unapologetic balm of soothing sun, what do you reach for to quench your thirst and keep you sustained, yet entertained throughout the festivities?
For us, you might have guessed, there's nothing quite like our range of perfectly formed Small Beers to step up to the paper plate and herald as the ultimate BBQ beer.
BBQ beer is the glue that keeps the meteorological miracle alive and Small Beer delivers on a multitude of fronts when it comes to your lineup of summer drinks:
With our classic beer styles below 2.8%, an all day session need not end prematurely because you started too early or have work the next day. With the natural diuretic limit sitting at 3% ABV (Alcohol By Volume), anything below that is technically more hydrating than dehydrating, so a

light beer

in the sun will still give you that warming buzz without running the risk of walking into the rose bush...just think of the thorns.

Better yet, the

lower alcohol

content makes for a perfect

BBQ beer

because you still have the headspace to enjoy the moment, which includes avoiding that idle scorching of the fingers when it's time to turn the skewers over.

Lastly, and perhaps our favourite, is the fact that our versatile range of four very different Small Beers means that your stock of

BBQ beer

won't leave things feeling repetitive. Far from blurring into one, our line up takes you on a journey across the malt spectrum starting with a bright and citrus pilsner-style Lager and a mouth-wateringly juicy Pale Ale, to a rich rye Steam, finished off with a feather-light roasted coffee and chocolate Dark Lager.
When it comes to finding the ultimate BBQ beer, there's ample choice across the Small Beer online store. As specialists in lower alcohol beers, Small Beer also provides a healthier option with less alcohol having a tendency to mean fewer calories, carbohydrates and sugar. And if you're more likely to have charred veg and marinated tofu filling up your plate, there's no need to fear, all our beers are vegan friendly.
We have a range of mixed beer cases to choose from as well as 5L mini kegs for draught beer lovers. So, next time you're thinking about filling up the fridge for that BBQ beer occasion, you know where to find us.  
---
We've collaborated with our friends and neighbours London Log Co. who source and supply specialist charcoal and wood to fuel some of the finest grills in the country, including the likes of Brat, Hawksmoor, Lyle's and The Fat Duck.
Much like ourselves, flavour and sustainability is at the heart of their business, which is why we're working with them to reuse materials from the drinks industry that would have otherwise been discarded. By reclaiming applewood and old biodynamic vinewood, this kit brings a new dimension of flavours to your home BBQ.