Are Office Beers A Good Work Perk?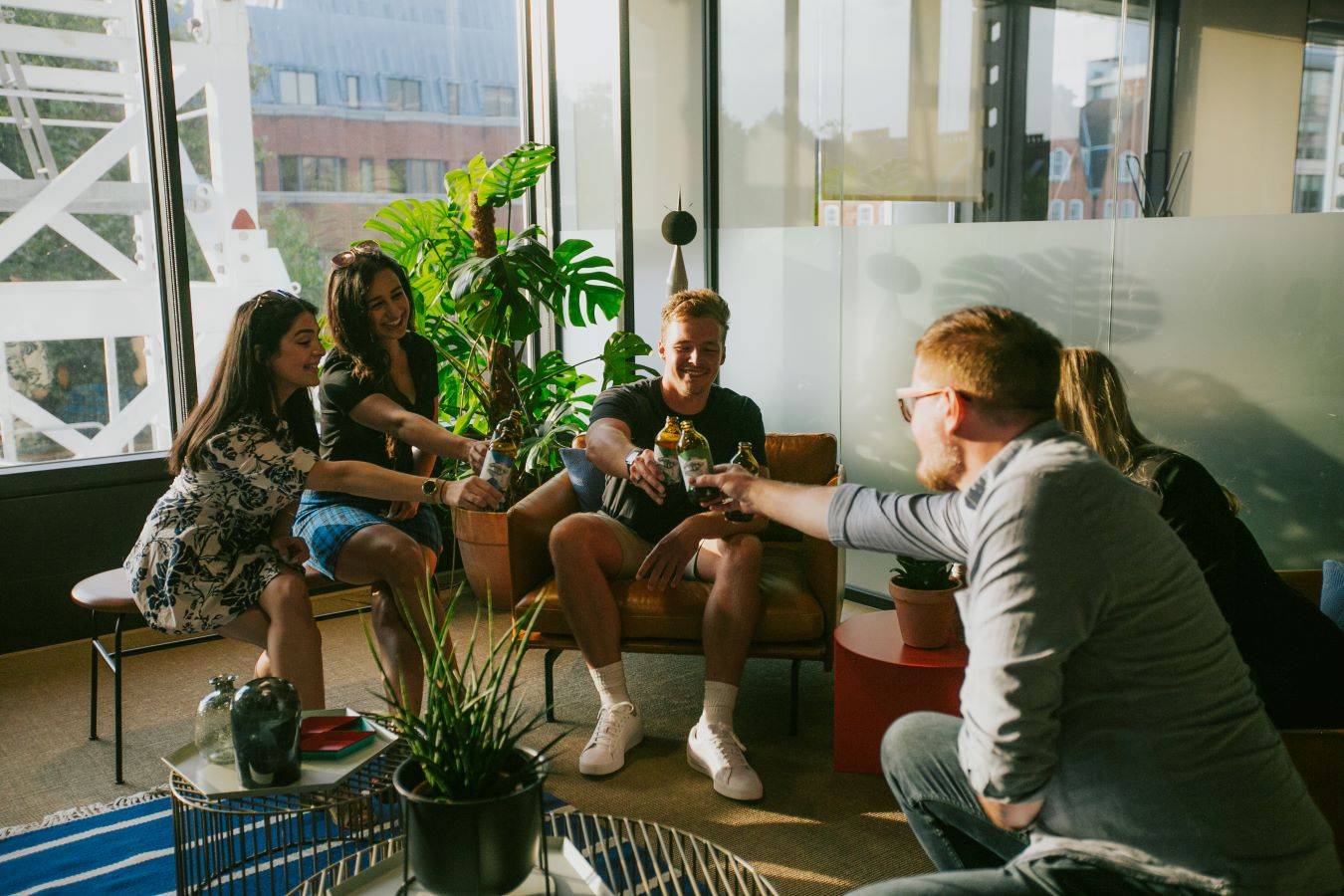 The days of Mad Men might be gone, but office beers remain a popular - if somewhat controversial - work perk across many industries.
There's no doubt that enjoying some downtime with your team is a great way to bond and celebrate success. But as trends in the workplace shift towards wellness and work-life balance, some employers at questioning whether rewarding their staff with a cold one is really such a smart idea.
DOES ALCOHOL BELONG IN THE WORKPLACE?
While most employees can enjoy the occasional beer at work without it affecting their performance, it's right that employers question whether office beers are aligned with the culture they wish to promote.
For employers considering office beers as a work perk or a reward, there are a couple of things that we shouldn't gloss over:
Encouraging alcohol consumption seems like a pretty disastrous idea for employers when you consider that lost productivity from alcohol consumption "costs the UK economy more than £7 billion each year." 
Work beers are not as inclusive as other perks. In fact, around one in five adults are now teetotal and this is only growing, as alcohol consumption amongst under-25s is in decline.
For both of these reasons, it's vital to ensure your office beers are part of a varied and inclusive perks offering that champions your company's values above everything else.
WHAT IS THE BEST BEER FOR YOUR OFFICE?
In any workplace where alcohol is present, moderation is key. To help your employees live a balanced lifestyle, you may want to consider an office beer that doesn't pack in as much alcohol.
Small Beer is crafted with around half the amount of alcohol as most craft beers and lagers, which is why it's enjoyed in offices around the UK, from law firms to media start-ups. Our full-flavour session beers go with moments like a lunch with clients, an afternoon meeting and a chance to unwind with colleagues in the office.
The body's natural diuretic limit is around 3%, which means that Small Beer - which is always under 2.8% ABV - doesn't have the same dehydrating effect as other alcoholic drinks. In fact, it actually hydrates you. So if you drink Small Beer after finishing work, you're a lot less likely to feel hungover in the morning.
Aside from it's hydrating properties and great taste, the beauty of Small Beer is the fact that it still contains alcohol, which induces a gentle buzz and pleasant looseness, without making you do or say something you'll regret the next day.
So rather than banishing your office beer to the last thing on a Friday, why not offer your team something that caters to all those occasions, both big and small?
AN OFFICE BEER CLUB FOR THE MODERN WORKPLACE
Setting up a Small Beer subscription for your workplace is the easiest and most economic way to keep your office beer fridge full of Small Beer cans, so you can celebrate your workplace wins.
Subscribers who receive an office beer delivery benefit from free shipping and a 5% discount on every case of beer. You can add as many beers to your subscription as you like, so it doesn't matter whether you're picking up a monthly 12-pack or if you're quenching the thirst of a much bigger team.
You can also choose how often you want your beers to arrive, by selecting a delivery schedule between 21 and 90 days. If your office is closed over Christmas, it's easy to pause or change your schedule from our subscription portal.
Our gift sets are the perfect gesture to mark a milestone at work or reward your staff for a recent achievement. Priced at £18, the Small Beer Gift Pack includes four bottles of Small Beer and two stylish beer glasses, beautifully packaged with recycled cardboard that tells the Small Beer story. You can also add a free gift note at checkout to congratulate your team or communicate a personalised message.
If you're looking for something extra, we'd love to help you create a bespoke experience for your team. On our brewery tours page, you can purchase tour vouchers, which make for the perfect experience gift in South London.
You can also get in touch to arrange a private tour for your whole team, which combines the art of crafting beer at a session strength with the science of sustainable brewing. After your tour, you can even hire our brewery as a venue for your work party. The brewery is easy to reach from London Bridge and there's space to comfortably host 40 - 100 people.
"Our company held an online tasting event with Small Beer last week. It was a great success and thoroughly enjoyable. James acted the perfect host giving an informative yet relaxed introduction to the brewery's four brews, mixing some beer-making history and just the right level of technical know-how to keep us all entertained.
"The beers are fantastic and we all came away as new or reaffirmed fans with something for everyone. So much flavour and so little guilt on a Thursday night – what's not to like!"
Chris, Standage