Big thinking with Alice Tate @asouthlondonhome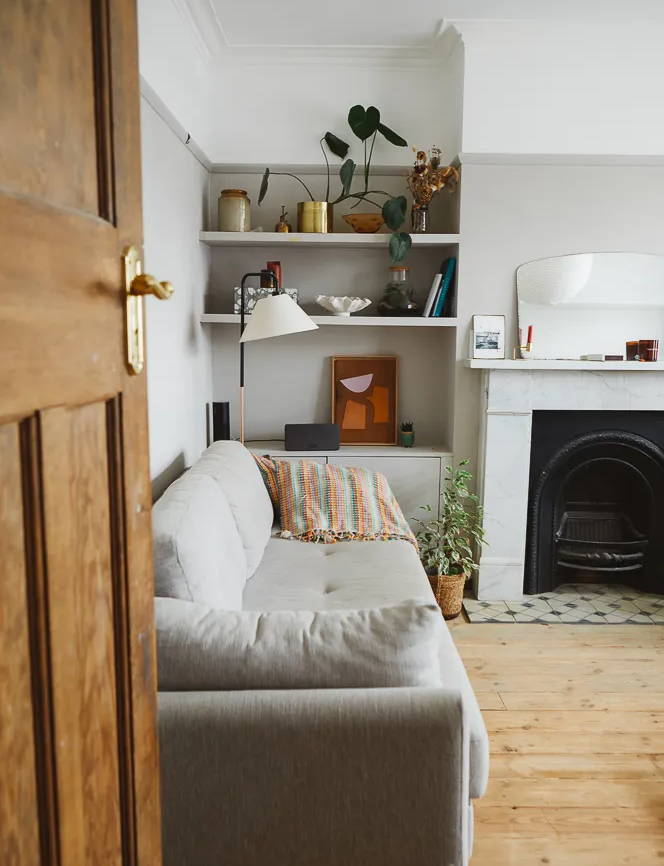 Renovating a home is no small task.
So when we heard that travel writer and purveyor of stunning interiors Alice Tate and her husband were in the midst of a full house renovation in South London, we had to get in touch.
Often times when embarking on large-scale projects, it's essential to be able to step back and see the bigger picture. What better way to savour those moments than with a well-deserved, refreshing beer.
Thank you Alice for sparing us a moment to share your top tips and an insight into your lovely home.
(We are of course biasED here as well) but Why choose South London?

South London has been home for us for a good few years now, we love it. To me, it always seems a bit more chilled out than east, and when it comes to houses, you do tend to get a bit more for your money. We're in Forest Hill, which has a couple of nice cafes, pubs and delis, but is also in walking distance of our favourite green spaces — Beckenham Park and Crystal Palace are firm favourites. There are loads of great neighbourhoods around here. We used to be in Nunhead which we loved, with Peckham and Brockley on our doorstep which both have great restaurants!
Describe your favourite parts of the renovation process
Overall, I would say we love the renovation process wholeheartedly — it's so satisfying working together on something and collectively investing all your time, energy and headspace, but that's not to say there are rollercoaster moments when you feel totally overwhelmed and over it.
I love and hate the ideas process. There are so many things I want to do and incorporate — so many saved posts on Instagram and Pinterest which serve as great sources of inspiration but also don't help with decision making. Decision fatigue is very, very real! I guess what I love most is being able to have an idea and make it happen — it all feels very adult, and we're very hands-on so do tend to tackle most projects ourselves. My husband is an electrician so it makes a huge difference having someone in the trade. He's the doer really, but I think we make a good team. I started the house Instagram account so we can document the process and look back on how far we've come. It already makes me so nostalgic looking at pics from the first few days we moved in. I love documenting the journey.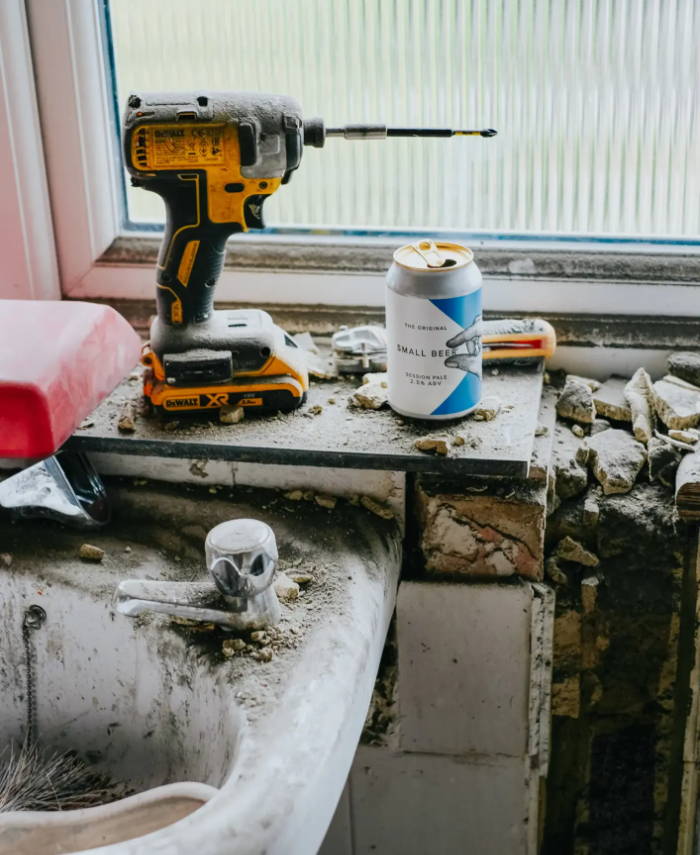 What advice would you give to someone considering taking on a home renovation?
So we're 11 months in now, into a project that's needed fully gutting, and it's pretty much been DIY and odd jobs every weekend and spare day since we moved in. So if you're planning on taking it on, and tackling jobs yourself, prepare to be very consumed — from a social and mental perspective! I'd also say take time to step back and look at the bigger picture - something we're not great at doing since it's easy to get so caught up in the details, but looking at how far you've come is hugely important.
Take us through a day of DIY-ing, what are the things you do before/during/after to keep the energy up and get the job done?

Pretty much every weekend for the past 10 months has been consumed by DIY so it feels like all we know at the moment. We're early risers so we'll be up and itching to go from about 7am but can't really start until 10ish at the weekends (constantly trying to keep on the neighbours' good side!) so we'll have coffee and a leisurely breakfast together before getting going. More coffee and snacks power us through, often, there'll be a tip run or something from a DIY shop we need so we'll pop out to pick up, which breaks up the day, and the summer has been nice for having lunch in the garden. We'll go for as long as we can - often 6 or 7pm then we're too tired to do too much in the evening so we'll just cook and watch TV. Luckily, our lounge was the first room we tackled so it does feel like a bit of a haven at the end of the day (compared to the rest of the house at least!).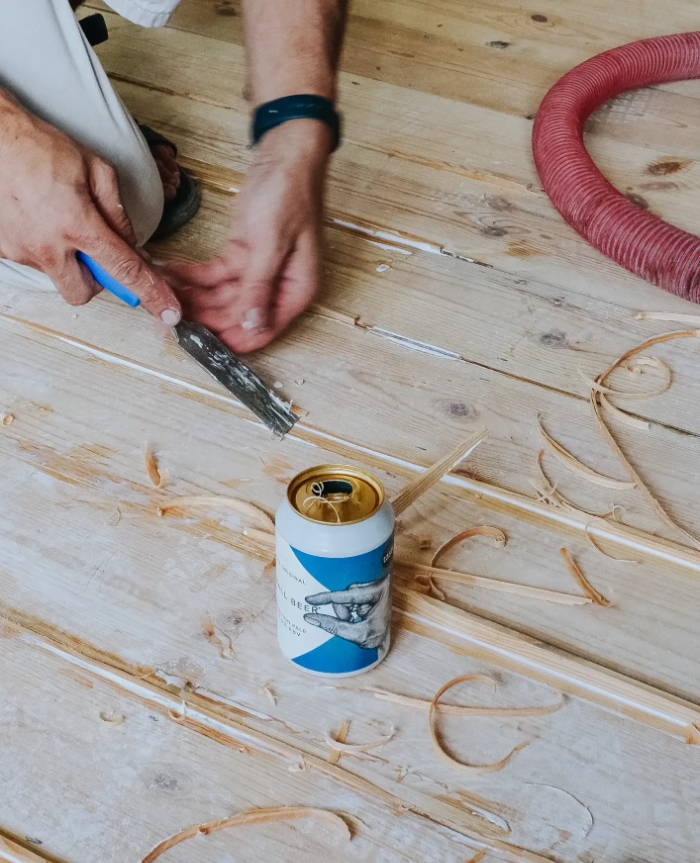 What is your favourite accomplishment of your renovation so far?
I'd say restoring the original floors has been our biggest labour of love. We pulled up the patterned carpets the day after we moved in to reveal, ta-da, beautiful wooden floorboards that were in great condition throughout the house. Regardless, it took a lot of work to get them clean, paler, and gap-free. We spent days crawling around on all fours hammering and glueing in wood slivers into every gap, hammering down nails and filling gaps, before hiring the world's loudest floor sander, and oiling them ourselves. Honestly, a slog of a job but they look great now.
What small details feel like they're making the biggest impact?
So my nemesis at the moment is painting and doing it neatly! A good straight line versus a sh*t line makes all the difference in the overall impact, and it's taken us numerous attempts in some rooms to get it right. Finally, I've found my best friend for the job – Tesa low-tack painting tape — so it's all going a little smoother now, thankfully. But I would say thorough prep (the boring part) and good tools really do make all the difference — and that's coming from someone who's very impatient and learnt the hard way on one too many occasions!
At what point in your day do you look forward to cracking open a Small Beer?
It's always like 4pm on a Saturday or Sunday when you're starting to lag and you've got a few more bits to try and get done before starting the dreaded clean up operation (the worst part of a live-in renovation is always having to clean up after every job). At that point, you know you're on the home stretch for the day — just a couple more hours and you can chill on the sofa!
Why is it important to always have a supply of delicious low/no beverages in the fridge
When you're chained to the house doing jobs every weekend, often starting early to make the most of the day, it's easy to get on the beers early - especially in summer when there's nothing better than a well deserved beer in the sun at lunch, then a couple more to power through the last of the day's jobs. Small Beer is a perfect alternative, because you get the same beer 'hit' and refreshment, without mindlessly knocking back a few units.
Favourite Small Beer style?
We're both big fans of the Session Pale Ale - can knock it back so easily meaning you can have a couple without having to worry about a sore head in the morning!