Small Beer's Big Thames Clean-Up
Small Beer is working with In The Drink to collectively clean up the River Thames and reduce plastic pollution.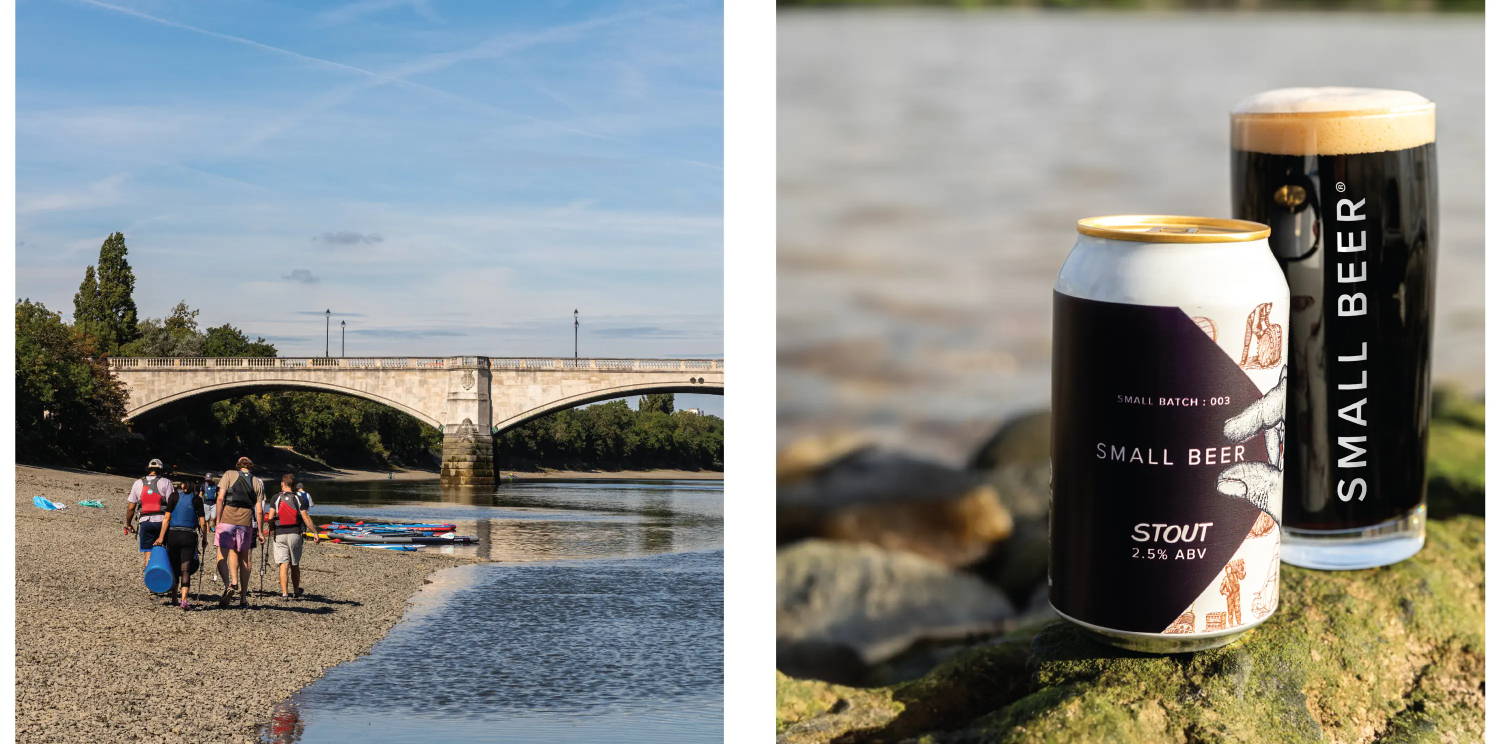 As London's first B Corp brewery, with sustainability at our very core, we're thrilled to launch our Big Thames Clean-Up campaign.
We're teaming up with In The Drink, an organisation that is dedicated to reducing single-use plastic in London waterways. As part of this campaign, we've crafted an incredible Small Beer Stout and we're donating 5% of all revenue from this tasty brew towards In The Drink.
We're also inviting Small Beer drinkers to join us for a riverside clean-up of the River Thames on Saturday 21st October. Make sure you sign up to our newsletter below for more information on how you can help out.
BE PART OF SMALL BEER'S BIG THAMES CLEAN-UP
Subscribe to our newsletter for more information and get your hands on our Stout before anybody else.
WHY WE ARE TURNING TO THE THAMES
According to research from Thames21, over 65% of the rubbish cleaned up from the Thames is food and drink packaging. Not only does pollution in the Thames affect water quality, it also poses a grave threat to the numerous marine species that rely on the river to thrive.
To help our industry clean up its act, we are making a sizable donation to In The Drink. We thought it was only fair that we also muck in and help remove as much litter as we can. That's why we're organising our Big Thames Clean-Up, taking place on Saturday 21st October at Bermondsey Beach.
MAKING A SPLASH WITH STOUT
Launching on Monday 2nd October, Small Beer Stout is our first new dark beer in four years and it's truly a big-tasting brew that is brimming with big ideas.  
Stout is steeped in London history, which is why it made perfect sense to launch it for our Big Thames Clean-Up. Brewed in London for over 300 years, Stout evolved from Porter, a dark and malty beer that was drunk by the market porters, who spent long days unloading heavy cargo from boats anchored in the River Thames.
Small Beer Stout is the latest edition in our Small Batch range. It's a seasonal treat, crafted at 2.5% ABV with subtle roasted barley notes and a hint of dark chocolate. If you liked our Small Beer Dark Lager, you're going to love our Stout.
We've got an exciting line-up of events throughout the Autumn, where you can try our Stout and do your bit to clean the Thames.
27th September: Be the first to taste our brand new Stout on draught at the Small Beer taproom.

2nd October: It's time to stock up on Stout, as our shiny new cans are exclusively launched through the Small Beer website.

12th October: Get yourself down to Bedford Street Wines in Covent Garden for a special night of stout and oyster pairing with The Oystermen.

21st October: Put on some wellies and join us at Small Beer's Big River Clean Up on Bermondsey beach.
EFFECTING POSITIVE CHANGE
At Small Beer, we are committed to effecting positive changes for our planet through our brewery. We proudly hold the distinction of being London's first B Corp brewery, and we operate the world's first dry-floor brewery. This means that we use just 1.5 pints of water to brew a pint of beer, a stark contrast to the industry-standard of 8-10 pints of water per pint brewed.
To date, our efforts have resulted in the conservation of over 6.5 million litres of water, sourced from the River Thames. With the launch of our brand new Stout and the Small Beer Big Thames Clean-Up, we are excited to extend our commitment to sustainable business practices even further.