The Art of Gifting a Small Beer Gift Pack
We all use gifting as a way to be thoughtful, which is why we've thoughtfully designed the Small Beer Gift Pack for beer lovers to share and enjoy. Created with 100% recycled and recyclable card, the Small Beer Gift Pack is our first bespoke packaging project to include the full Small Beer range and two half pint glasses.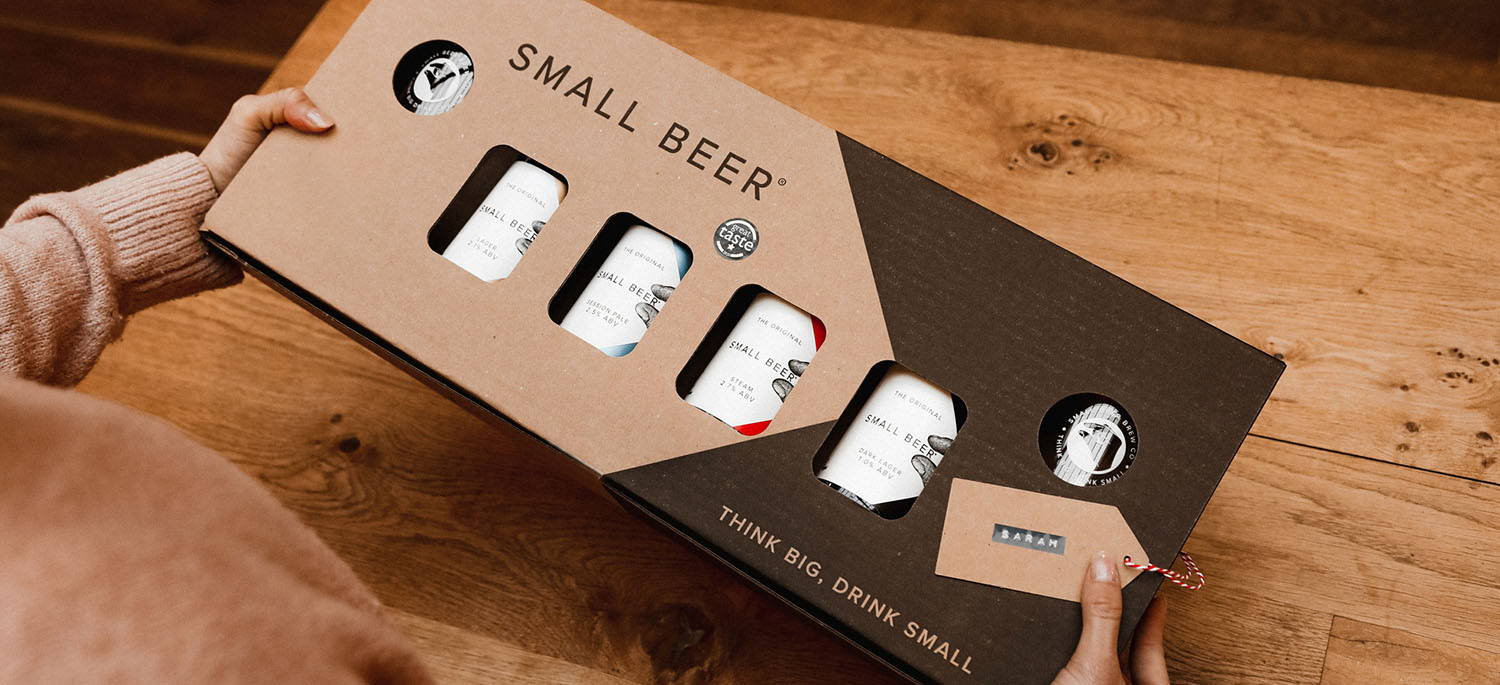 A Fresh Perspective on Beer
Gift Sets
When it comes to gifting, we often find ourselves inundated with so much waste – from wrapping paper to plastic packaging, sometimes even the gift itself. With sustainability at the forefront of everything we do, we wanted to create a gift set that held true to our values when it comes to environmental responsibility.
Along with cutting out the unnecessary frills, we use unvarnished, recycled cardboard sourced entirely from UK paper mills.
Naturally, creating packaging with 100% recycled card has its limitations. Where other materials would enable us to print intricate designs and illustrations, we needed to focus on the structure itself. Our challenge – how do we create a sophisticated gifting experience and tell the Small Beer story with these materials?
So we got creative.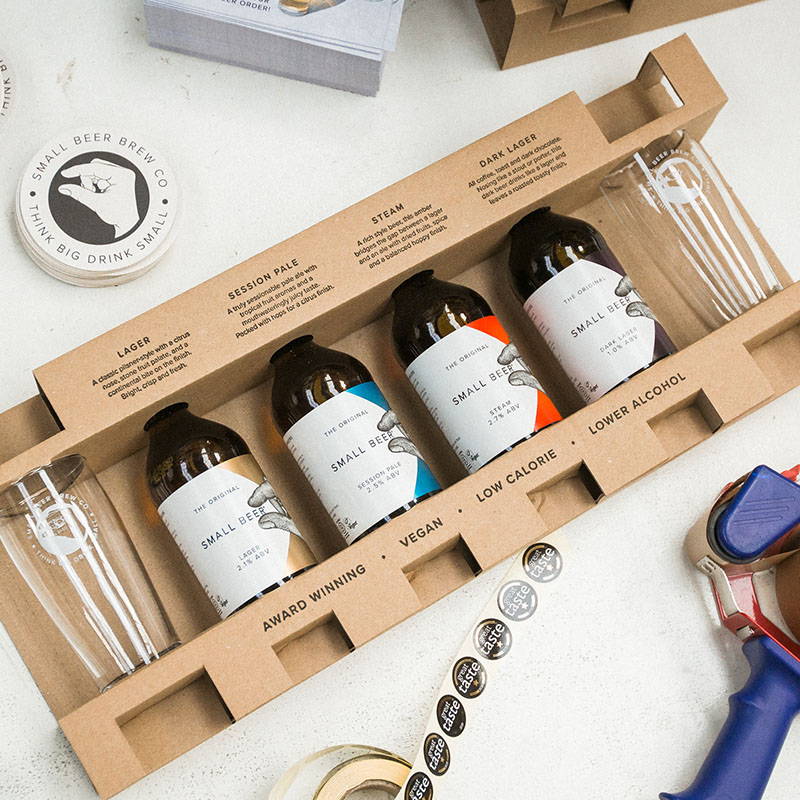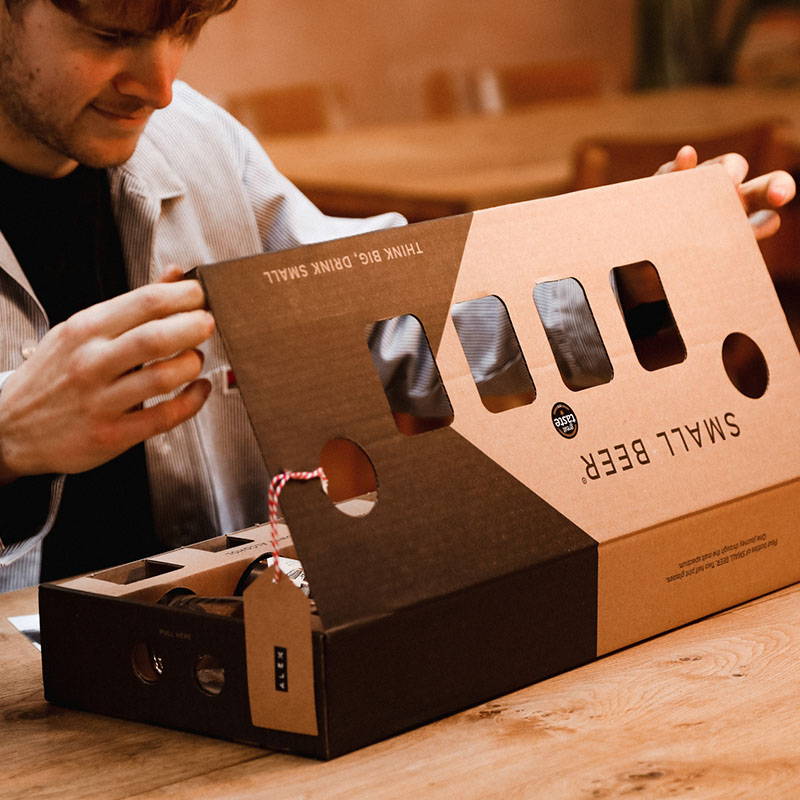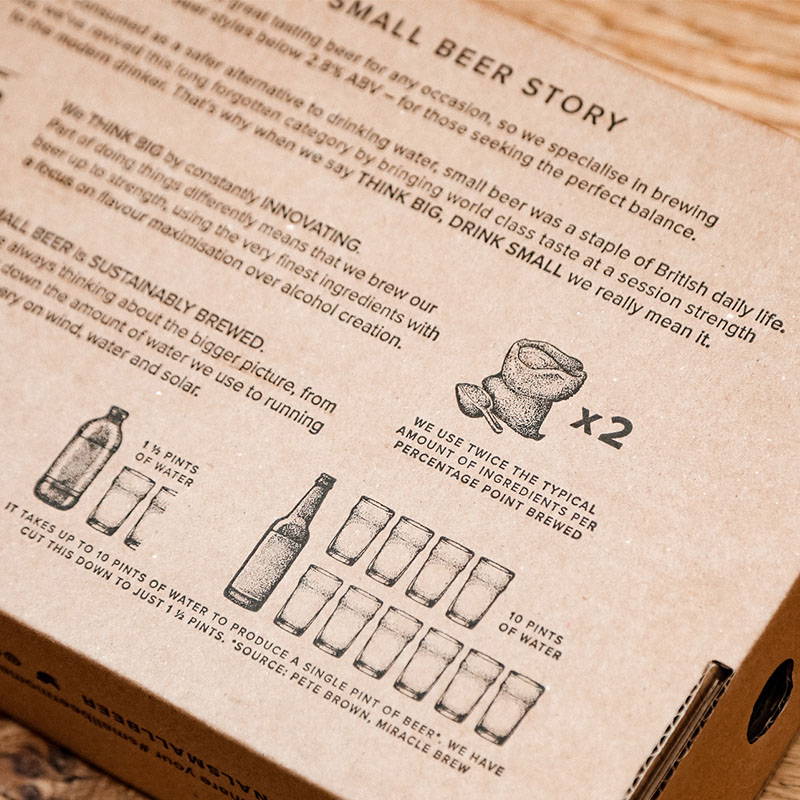 Hand-Assembled in our Brewery
The new Small Beer Gift Pack is made up of three sections – an innermost piece that secures your beer and glasses, a stylish casing that includes the Small Beer story, and the outer to ensure it arrives safely in the post. As you unpack, each element reveals another piece of our story.
The Result: A stunning gift set of our world class Small Beer, the perfect alternative gift for any beer lover looking to discover something new. We hope you enjoy it, as much as we loved creating it!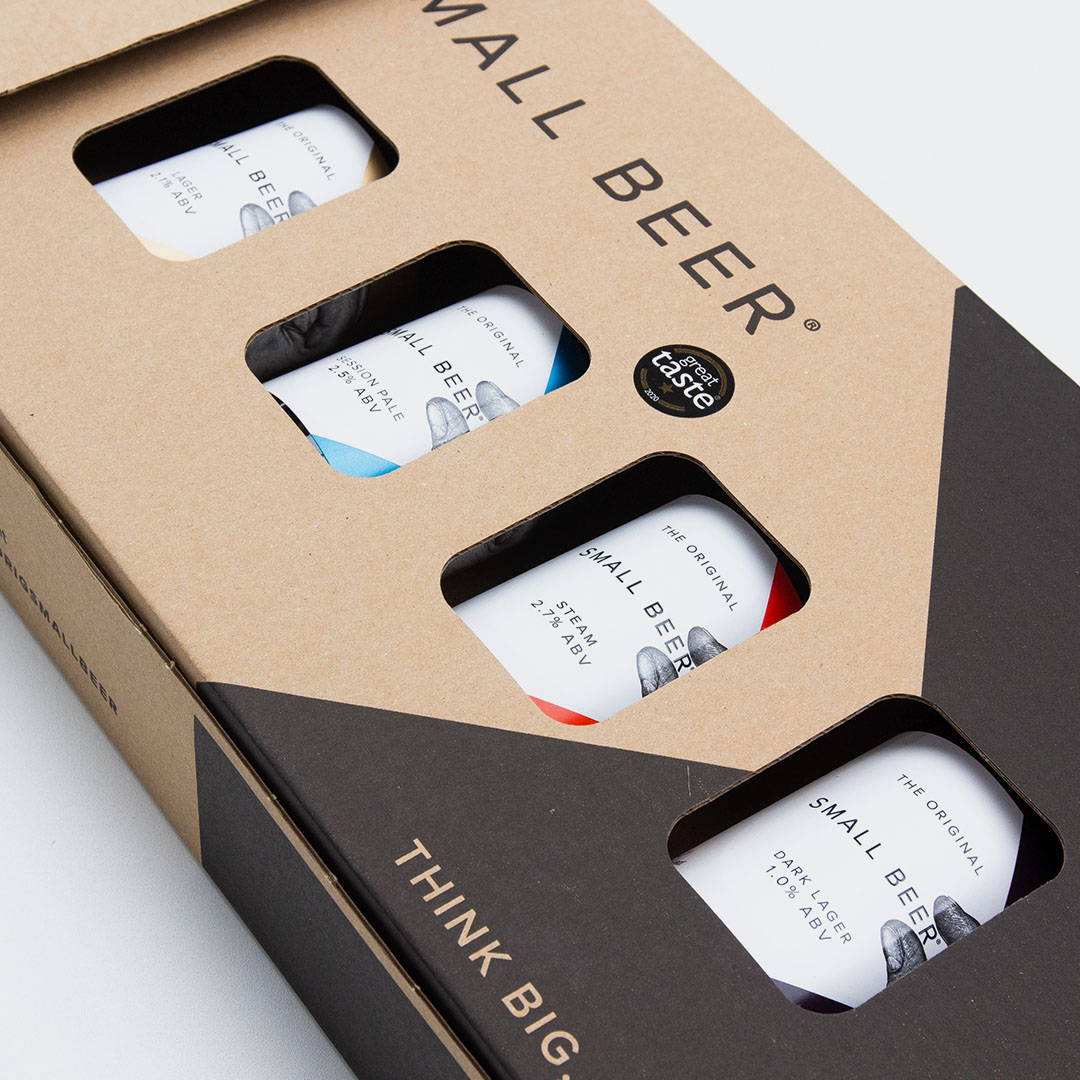 What does our Small
Beer Gift Pack
include?
Our Small Beer Gift Pack includes:
2.1% Lager – A classic pilsner-style, with a crisp citrus bite.
2.5% Session Pale – A flavour-packed pale ale, full of juicy bitterness and a balanced tropical finish.
2.7% Steam – A rich amber style beer, perfectly bridging the gap between lager & ale.
1.0% Dark Lager – All coffee, toast and dark chocolate. Nosing like a stout or porter, this dark beer drinks like a lager and leaves a roasted toasty finish.
Why choose our beer gift set?
Give a Small Beer Gift Pack when looking for an alternative gift  for any occasion – whether it's for Christmas, a birthday, Father's day, Mother's day, a Valentine's treat, to celebrate a new job, new house, or just because... after all, there's always a moment to celebrate with the gift of beer!
---